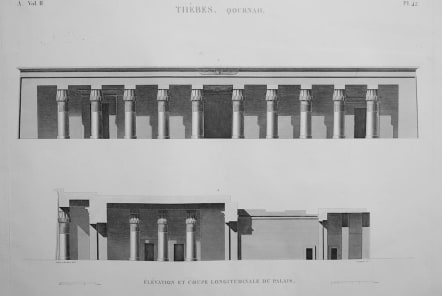 EGYPT THEBES QOURNAH
£145
Title ELEVATION ET COUPE LONGITUDINAL DU PALAIS
Stunning large architectural style plate.
This original, large folio, copperplate engravings come from a monumental work entitled Description de l'Egypte ou Recueil des observations et des recherches qui ont ete faites en Egypte pendant l'expedition de l'armee Francaise. (Translated Description of Egypt and Collection of Observations and Research that were done in Egypt during the expedition of the French Army.) This famous work was completed under the supervision of Napoleon during his failed venture to rule Egypt.
engraved by Jollois and engraved by Compagnie
excellent condition.
Cartographer : Panckoucke publisher
subscribe to our newsletter