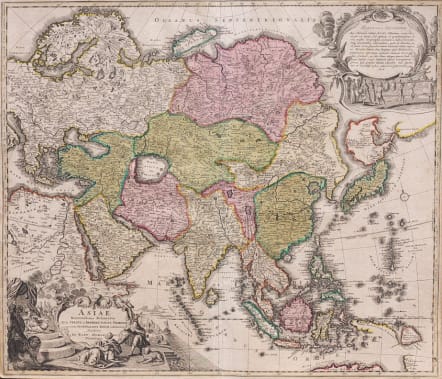 ASIAE RECENTISSIMA DELINEATIO..
Sold
Attractive and very decorative map of Asia with a particularly interesting depiction of Japan. Hokkaido and Honshu (Terra Yedso) are joined together by a narrow isthmus and separated from the mainland by a wide strait. An accompanying note acknowledges Scherer as the source, although the orientation of Yedso and Companies Land appears to be based on the Delisle model. A huge lake appears in Tibet and is named the legendary Chiamay. A second lake is shown in the position usually occupied by Lake Chiamay, but here it is named L. Cananor Cunabete. In Southeast Asia the straits between New Guinea and Australia appear in a tentative fashion, noting Dampier's Strait and a disembodied Carpentaria with no definite northern limit. This is an early edition with two elaborate cartouches. The lower title cartouche features an Asian queen holding court, the upper cartouche a ceremonial procession.
Uncommon as pre Cum Privigio Homann map.
Good strong impression with equally with excellent full original colour.
Some small nicks in left margin not noticeable.
Excellent condition
Ref: Yeo #109.
The Family HOMANN
Johann Baptist Homann (1664-1724) started his career in Amsterdam as an apprentice with the Danckerts family before returning to Nuremberg to establish himself in business in 1702. The firm quickly became the principal geographical publishers in Germany and in 1715 Homann was appointed Geographer to the Holy Roman Emperor and he was also a member of the Prussian Royal Academy of Sciences. His publications included the "Neuer Atlas Ueber Die Gantze Welt ..." in 1707-. The "Grosser Atlas ..." of 1716- and the "Atlas Novus Terrarum Orbis Imperioa" in c.1720, as well as many others. Johann died in 1724 and was succeeded by his son Johann Christoph who died in 1730. After his death the firm took the name Homann's Heirs and continued thereafter until 1813. Publications with the Homann's Heirs' imprint included the "Grosser Atlas" in 1731, Doppelmays'r "Atlas Coelestis ..." in 1742 and the "Atlas Geographicus Maior ..." in 1753-, amongst others. Throughout this entire period the firm were the leading map publishers in Germany, employing a number of very important cartographers
subscribe to our newsletter