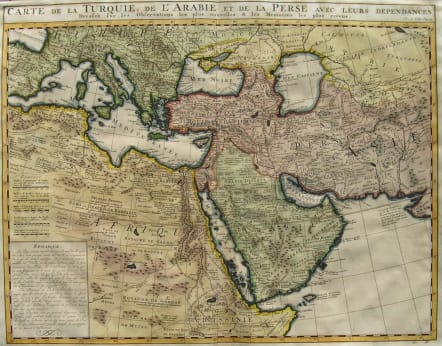 TURKISH EMPIRE OTTOMAN CARTE DE LA TURQUIE DE L,ARABIE ET DE LA PERSE AVEC LEURS DEPENDENCES
Sold
'Carte de la Turquie, de L'Arabie et de la Perse avec leurs dependances ...' (Map of Turkey, Arabia and Persia.) Superbly engraved very detailed map of the region from the Mediterranean to the Indian Ocean, based upon Guillaume De L'Isle's map of the same title.
Published in 'Atlas Historique...' (Historic Atlas...), Published by Zacharie Chatelain, Amsterdam,
Excellent hand colour.Very good condition.
Cartographer : CHATELAIN Family
Zacharie Chatelain (d.1723) was the father of Henri Abraham (1684-1743) and Zacharie Junior (1690-1754). They worked as a partnership publishing the Atlas Historique, Ou Nouvelle Introduction A L'Histoire … under several different Chatelain imprints, depending on the Chatelain family partnerships at the time of publication. The atlas was published in seven volumes between 1705 and 1720, with a second edition appearing in 1732. The maps were accompanied by information pertaining to cosmography, geography, history, chronology, genealogy, topography, heraldry, and costume of the world.
subscribe to our newsletter