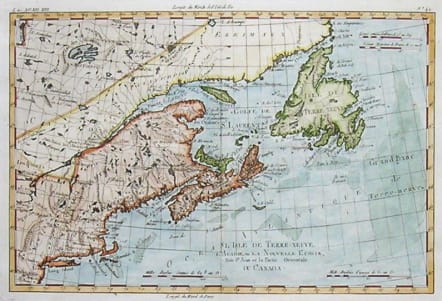 BOSTON MAINE L'ISLE DE TERRE NEUVE
£160
Full Title: L'Isle de Terre Neuve, L'Acadie, ou Nouvelle Ecosse, L'Isle St. Jean et la Partie Orientale du Canada.
A fine example of Rigobert Bonne and Guilleme Raynal's 1780 map of the Northeast United States and Eastern Canada... This highly detailed map covers the eastern coast of the United States from a portion of New Jersey and New York in the south as far north as the Canadian Maritime Provinces of Nova Scotia, New Brunswick, and Newfoundland. Identifies Martha's Vineyard and Nantucket Island. Shows all principal harbors, ports, bays and islands. Along the coast, shoals such as the Grand Banks and the fisheries off Cape Cod are depicted, as this area was extremely important to the North American cod fishing industry through the 18th century. Drawn by R. Bonne for G. Raynal's Atlas de Toutes les Parties Connues du Globe Terrestre, Dressé pour l'Histoire Philosophique et Politique des Établissemens et du Commerce des Européens dans les Deux Indes.
Excellent hand colour.Veery good condition.
Cartographer : BONNE Rigobert
Rigobert Bonne (1727-1795), a prolific French cartographer, was active between about 1760 and 1788, working in the French Hydrographical Office, and appointed as Hydrographer to the French King.
Bonne prepared a large number of charts, some of which appeared in the Atlas Maritime. Today, he is best known for the smaller maps that he prepared for Raynal's Atlas de Toutes Les Parties Connues du Globe Terrestre, published in 1780, and the Atlas Encyclopedique, published in conjunction with Nicholas Desmarest. Although the maps are relatively plain, dispensing with the decorative embellishment of mid-century, they are detailed and provide good coverage of newly discovered regions.
subscribe to our newsletter