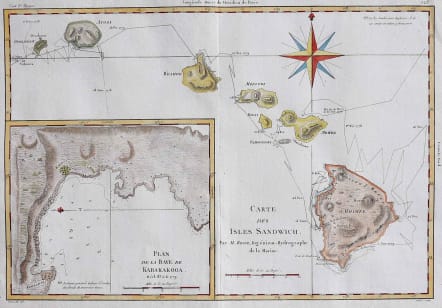 CARTE DES ISLES SANDWICH
£465
Very attractive map of Hawaii by Bonne after Cook's voyages.
This copper-engraved chart of the islands has a large inset "Plan de la Baye de Karakakooa."
Cook's tracks through the island chain in both 1778 and 1779 are traced and the chart incorporates a nice large compass rose.
This was where the great explorer met his end, in 1779, being killed by natives of the island as he went ashore.
An important early map of the area.
Excellent condition.
Excellent Hand colour.
Mint condition for this sought after map.
Cartographer : BONNE Rigobert
Rigobert Bonne (1727-1795), a prolific French cartographer, was active between about 1760 and 1788, working in the French Hydrographical Office, and appointed as Hydrographer to the French King.
Bonne prepared a large number of charts, some of which appeared in the Atlas Maritime. Today, he is best known for the smaller maps that he prepared for Raynal's Atlas de Toutes Les Parties Connues du Globe Terrestre, published in 1780, and the Atlas Encyclopedique, published in conjunction with Nicholas Desmarest. Although the maps are relatively plain, dispensing with the decorative embellishment of mid-century, they are detailed and provide good coverage of newly discovered regions.
subscribe to our newsletter