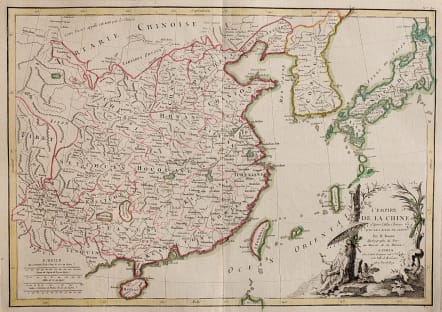 L'EMPIRE DE LA CHINE
Sold
L'Empire de la Chine d'Apres L'Atlas Chinois avec Les Isles du Japon
A beautiful example of Rigobert Bonne's c. 1770 decorative map of China, Korea (Corea), Japan and Formosa (Taiwan). Extends from Tibet and Chinese Tartary east to Japan and south to Hainan. China is divided into various provinces with major cities, lakes, and riverways notes. Names Macao, Canton, Nanking (Nanjing), Jedo (Tokyo), Peking (Beijing) and countless other cities. The lower right quadrant is decorated with an elaborate title cartouche showing an Chinese scholar or monk relaxing with a bird in a forest under a parasol. Drawn by R. Bonne c. 1770 for issue as plate no. 35 in Jean Lattre's 1776 issue of the Atlas Moderne .
Original hand colour
Very good condition
Cartographer : BONNE Rigobert
Rigobert Bonne (1727-1795), a prolific French cartographer, was active between about 1760 and 1788, working in the French Hydrographical Office, and appointed as Hydrographer to the French King.
Bonne prepared a large number of charts, some of which appeared in the Atlas Maritime. Today, he is best known for the smaller maps that he prepared for Raynal's Atlas de Toutes Les Parties Connues du Globe Terrestre, published in 1780, and the Atlas Encyclopedique, published in conjunction with Nicholas Desmarest. Although the maps are relatively plain, dispensing with the decorative embellishment of mid-century, they are detailed and provide good coverage of newly discovered regions.
subscribe to our newsletter