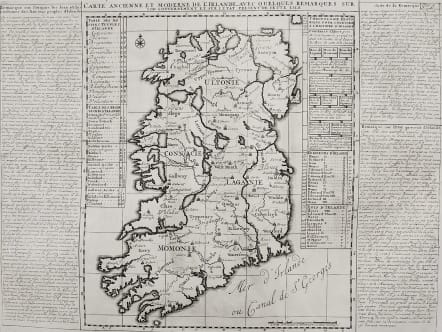 Carte Ancienne et Moderne de l'Irlande
Sold
Uncommon and interesting map of the whole of Ireland.
The copper-plate maps from Chatelain's "Atlas Historique" (1705-1720) are based on the work of French cartographer, Guillaume De L'Isle.
The table includes information ancient peoples, the Sees, the Kings of Irand ,the present situation of Ireland & places, etc. The maps shows the ancient names.
Uncoloured as issued.
Very good condition.
Cartographer : CHATELAIN Family
Zacharie Chatelain (d.1723) was the father of Henri Abraham (1684-1743) and Zacharie Junior (1690-1754). They worked as a partnership publishing the Atlas Historique, Ou Nouvelle Introduction A L'Histoire … under several different Chatelain imprints, depending on the Chatelain family partnerships at the time of publication. The atlas was published in seven volumes between 1705 and 1720, with a second edition appearing in 1732. The maps were accompanied by information pertaining to cosmography, geography, history, chronology, genealogy, topography, heraldry, and costume of the world.
subscribe to our newsletter