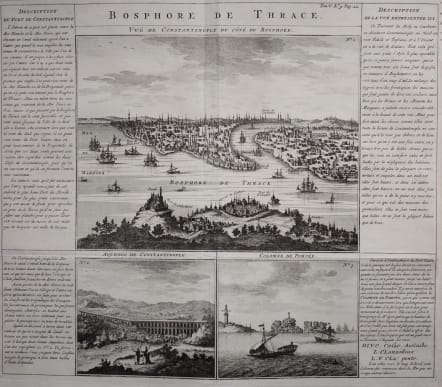 BOSHORE DE THRACE
£250
Full Title: Bosphore de Thrace. Vue De Constantinople Due Cote Du Bosphore [with] Aqueduc De Constantinople [with] Colomne De Pompee..
Superb plate from Chatelain's "Atlas Historique" with views showing Constantinople from the Bosphorus with smaller views of the Aqueduct and the Column of Pompei below. French text down either side describes the port itself and a description of the view depicted. The view probably taken from De Bruyn.
Very good condition.
Cartographer : CHATELAIN Family
Zacharie Chatelain (d.1723) was the father of Henri Abraham (1684-1743) and Zacharie Junior (1690-1754). They worked as a partnership publishing the Atlas Historique, Ou Nouvelle Introduction A L'Histoire … under several different Chatelain imprints, depending on the Chatelain family partnerships at the time of publication. The atlas was published in seven volumes between 1705 and 1720, with a second edition appearing in 1732. The maps were accompanied by information pertaining to cosmography, geography, history, chronology, genealogy, topography, heraldry, and costume of the world.
subscribe to our newsletter