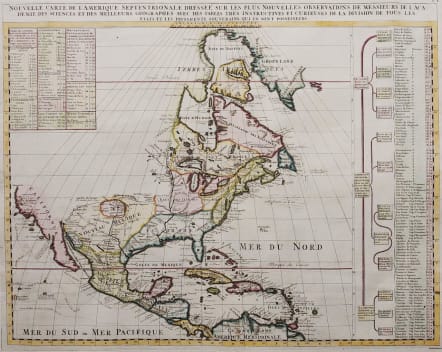 NOUVELLE CARTE DE L'AMERIQUE SEPTENTRIONALE DRESSEE SUR LES PLUS NOUVELLES OBSERVATIONS...
Sold
This is Chatelain's very attractive and uncoomon re-engraved version of Delisle's foundation map of North America. The cartography is nearly identical to the Delisle map, with California returned to its peninsular position rather than as an island. Mendocin is the farthest northern point on California. Port De Drak marked. The Great Lakes are well-defined, based on Coronelli. The Mississippi River valley is well developed with recent French settlements. A chart to the right lists the primary divisions of North America with colonial interests, native tribes, and towns.
It includes all of Central America and the West Indies. The English settlements are confined to the eastern seaboard. The mythical kingdom of Quivra is located just west of the Mississippi River and the city of Cibola are located in New Mexico.
The routes of early discoverers are depicted along the Pacific coast.
The west is left entirely blank and is partially filled with a table of information on the West Indies. Another table fills a panel at right with information concerning the indigenous people and colonial possessions on the continent.
very goodt hand colour.
Excellent condition.
Cartographer : CHATELAIN Family
Zacharie Chatelain (d.1723) was the father of Henri Abraham (1684-1743) and Zacharie Junior (1690-1754). They worked as a partnership publishing the Atlas Historique, Ou Nouvelle Introduction A L'Histoire … under several different Chatelain imprints, depending on the Chatelain family partnerships at the time of publication. The atlas was published in seven volumes between 1705 and 1720, with a second edition appearing in 1732. The maps were accompanied by information pertaining to cosmography, geography, history, chronology, genealogy, topography, heraldry, and costume of the world.
subscribe to our newsletter