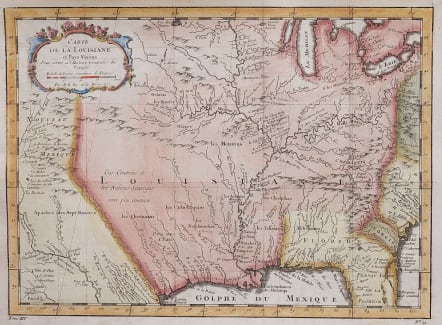 CARTE DE LA LOUISIANE ET PAYS VOISINS
£235
Finely engraved and detailed map of the Louisiana Territory extending from the Great Lakes to the Gulf of Mexico and from Nouveau Mexique to Florida (not showing the tip of Florida).
Many Indian names, missions, forts and early settlements.
Decorative title cartouche. Folds, flattened, as issued.
Excellent hand colour
Very good hand colour
Very good condition
Map of French Louisiana including the entire Mississippi Valley before the eastern part was lost to the British during the French and Indian Wars. The western portion is what we came to know as Louisiana. The map is after DeLisle's famous map of Louisiana. It extends from the Appalachian Mountains to the Spanish Settlements in New Mexico including Texas where several of LaSalle's sites are noted as well as a Spanish Fort. Many rivers and forts are specified. References to Les Kansez, Missouries, les Acansas and Ahbamous, etc
Cartographer : Jacques-Nicolas BELLIN
Jacques-Nicolas Bellin (1703-1772) was one of the most important and prolific French cartographers of the mid-eighteenth century, in the service of the French Hydrographical Office. He was appointed the first Ingenieur Hydrographe de la Marine, and also Official Hydrographer to the French King.
Bellin was responsible for an enormous output of charts and maps. In a large folio format, he issued a volume of sea-charts of France, the Neptune Francois, and several sea-atlases of the World, including the Atlas Maritime and the Hydrographie Francaise. These large charts were amongst the best of the period and continued being reissued throughout the second half of the eighteenth century.
In smaller format, he issued the Petit Atlas Maritime (1764),which contained 580 detailed charts, as well as maps to illustrate l'Abbe Prevost's Histoire Generale des Voyages (1746-1757). Bellin also produced a substantial number of important separately issued maps, particularly reflecting continuing discoveries and political events in the Americas.
subscribe to our newsletter