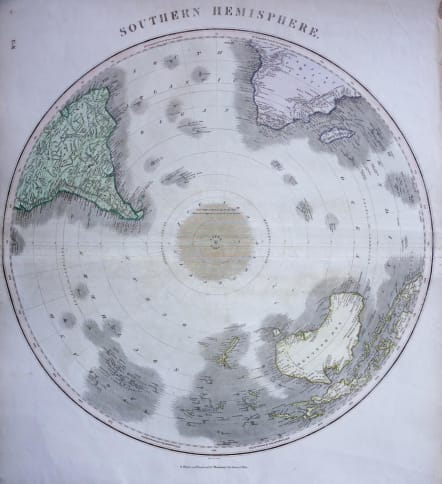 SOUTHERN HEMISPHERE
£195
Attractive and highly detailed map of the Southern Hemisphere extending to the equator. The regions shown include substantial detail, including attention to topographic details in the mountain regions A very attractive and interesting map, illustrating the total lack of knowledge of Antarctica. One of the best large format English maps of the period. Nice wide margined example.
Full original colour.
Very good condition
[No.3] from Thomson's New General Atlas 1815. Kirkwood, engraver. Polar projection. Finest view of the South Pole of the period.
Cartographer : John Thomson
THOMSON, John
flourised 1814-1869
John Thomson produced two major works in his life time, A New General atlas of the World 1814-28 and Atlas of Scotland 1820-32. The maps from A New General atlas of the World were printed in full hand coloring from large copperplate engravings. The level of detail at the time of publication was heralded as a breakthrough in British cartography and Thomson rightly earned a great deal of attention and his work copied for a number of years
subscribe to our newsletter