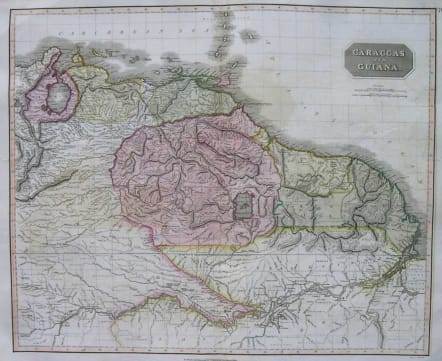 SOUTH AMERICA CARACCAS AND GUIANA
£125
Highly detailed mapof the Northwestern portion of South America, extending from the Lake of Maracaibo and the Windward Ilands to the Amazon River.
Shows the full course of the Amazon as far east as Ytucales. Excellent detail throughout. One of the best large format English maps of the period.
from Thomson, J. A New General Atlas, (Edinburgh) 1814.
Some offsetting otherwise good condition.
References: Rumsey 1007.075. Phillips (Atlases) 731. Newberry Library: Ayer 135 T4 1817.
Cartographer : John Thomson
THOMSON, John
flourised 1814-1869
John Thomson produced two major works in his life time, A New General atlas of the World 1814-28 and Atlas of Scotland 1820-32. The maps from A New General atlas of the World were printed in full hand coloring from large copperplate engravings. The level of detail at the time of publication was heralded as a breakthrough in British cartography and Thomson rightly earned a great deal of attention and his work copied for a number of years
subscribe to our newsletter