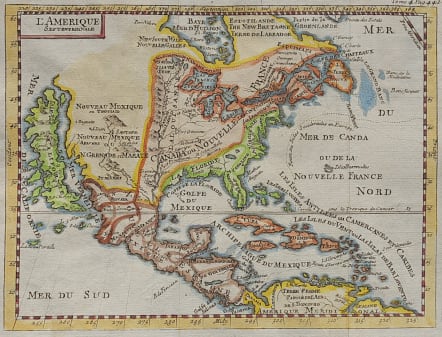 L'AMERIQUE SEPTENTRIONALE
Sold
V. Rare map of North America with California represented as a large island.
This map appears to have been published in 1748 in a travel book by a Claude De L'Isle. (!)
The map is identical in all ways to the rare Ogier of North America except that it has a box cartouche.
It features a huge island of California with an indented coastline on the Fox model and the place names R. d' Estiete, C. Blanco, P. de Carinda, Canal de S. Barbe, I. de S. Martin, I. de S. Marc, B. de S. Francisco, B. de Simon, B.S. Christoue and Bernabe. The Rio Grande (Rio Bravo ou de Nort) is shown quite correctly for the period with its source in the mountains north of Santa Fe. The map is divided into French, British and Spanish colonial possessions.
Good hand colour.
This rare map is in mint condition.
subscribe to our newsletter