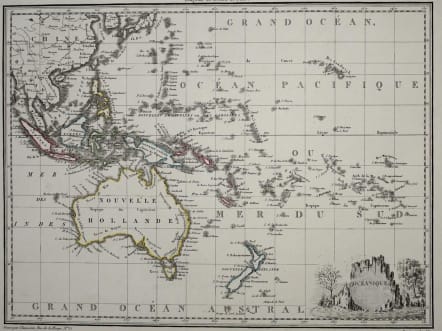 OCEANIQUE
Sold
Interesting decorative and rare map of western Pacific and Australia.
From Conrad Malte-Brun's Atlas complet du Precis de la Geographie Universelle. Engraved by Chamouin.
Lapie's map features an attractive vignette based on illustrations by Lesueur. Charles Lesueur was the young artist on Baudin's voyage, famous for his fine illustrations of Australian animals.
Pierre Lapie was the first geographer to the King of France and Chief of the Topographic section of the War Office.
Original colour. Cartouche.
Very good condition.
subscribe to our newsletter