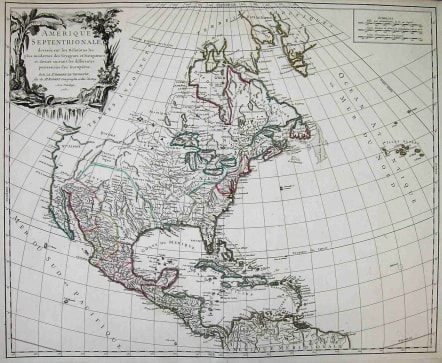 NORTH AMERICA AMERIQUE SEPTENTRIONALE
£730
Amerique Septentrionale dressee sur les Relations les plus modernes des Voyageurs et Navigateurs et divisee suivant les differentets possessions des Europeens.**Scarce first edition of De Vaugondy's large map of North America. The region east of the Appalachians is referred to as Chouanous et Cheraquis. Extensive notes on the Mississippi Valley Indians, French and English forts and other details. The River systems which drain into the Mississippi are also of note, along with the Belle Riviere, which seems to extend from Southern Kansas or Northern Oklahoma to the west, quite uniquely and mythically so. The Coast of California still includes Nlle. Albion, Quiviera and the entrance discovered by Martin d'Augilar. The lands to the north are Terres Inconnues. The Missouri River extends far into the West. This is in near mint condition with original outline colour. Pedley 448.
Cartographer : VAUGONDY ROBERT DE Family
The Robert de Vaugondy family responsible for map and globe publishing in Paris comprised Gilles Robert de Vaugondy (1688-1766) and Didier Robert de Vaugondy (1723-1786). The father (Gilles) and son (Didier) business flourished from 1731 to 1778.
Prominent at this time among French map-makers were the Robert de Vaugondy family, who made a substantial contribution to the eighteenth century world of cartography, through the breadth and success of their prolific output, which included atlases, maps, globes and book illustration.
While only a small part of their output, the "Atlas Universel" encapsulates the diligent and scientific approach adopted by the Roberts de Vaugondy, and proved to be the most successful French world atlas of the period. It appeared from c.1757 onwards.
subscribe to our newsletter