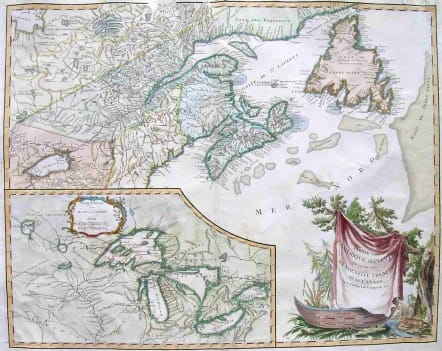 CANADA PARTIE DE L'AMERIQUE SEPTENT QUI COMREND LA NOUVELLE FRANCE OU LE CANADA
£325
Vaugondy's L'AmeriqueSeptent... was one of the important maps produced just prior to the French and Indian War.The large inset map of the Great Lakes provides one of the best delineations of the region at the time and is one of the earliest to use the present names of all five lakes.Good hand colour.colour.Some small professsional repairs otherwise good condition. . ref: McCorkle,New England in Early Printed Maps, #755.36; Kershaw, Early Printed Maps of Canada,#354, plate 235.
Cartographer : VAUGONDY ROBERT DE Family
The Robert de Vaugondy family responsible for map and globe publishing in Paris comprised Gilles Robert de Vaugondy (1688-1766) and Didier Robert de Vaugondy (1723-1786). The father (Gilles) and son (Didier) business flourished from 1731 to 1778.
Prominent at this time among French map-makers were the Robert de Vaugondy family, who made a substantial contribution to the eighteenth century world of cartography, through the breadth and success of their prolific output, which included atlases, maps, globes and book illustration.
While only a small part of their output, the "Atlas Universel" encapsulates the diligent and scientific approach adopted by the Roberts de Vaugondy, and proved to be the most successful French world atlas of the period. It appeared from c.1757 onwards.
subscribe to our newsletter